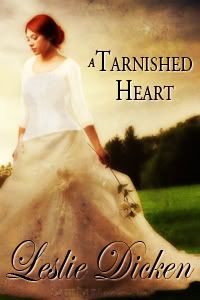 A Tarnished Heart ~
Samhain Publishing: My Bookstore and More | Kindle
A Reserved Lord
After the death of his wife and father, the Earl of Markham has spent the last five years fiercely guarding his emotions from involvement, including getting too close to his son. Then a blackmail threat shatters his impassive world. To ensure his son's inheritance, Markham must woo and marry a headstrong commoner with a heart as wild and free as the English countryside she loves. Though wrong for him in every way, he discovers seducing her awakens more than just his colorless world. Soon, the battle to protect his son's future becomes a fight for his own heart.
A Spirited Commoner
After a tragedy destroyed Lizzie Parker's dreams, she wants no part of venturing far from home. She is content with her life of her garden, her village, and possibly, her father's curate. Sent from her ideal world to London and the glittering Season, Lizzie does whatever possible to vex the man who once broke her heart. But she never expects his kisses to tame her resistance. And each time his touch arouses her senses, she is less and less sure of just where she belongs.
Excerpt:
Markham leaned closer, his penetrating eyes halting her resistance. Her breath stilled as those perfectly formed lips hovered just inches from her face. She could see every nuance of his skin, every fine line around his eyes. "Apparently, you don't know with whom you are dealing."
Her eyes narrowed, a flush racing up her neck. "But I do know…a rude, boorish, self-absorbed peer who thinks he can manipulate people however he pleases."
He showed no reaction, damn him. "And you are a foolish country girl who has no gratitude for the opportunities she's been given."
"Opportunities! What do you know of my dreams?"
"Oh, I know of your dreams but I can't tolerate thinking of you with him."
Markham's jaw snapped shut. His gaze shuttered from surprise to detached to unreadable so quickly Lizzie barely had time to recognize their meanings. Had he not meant to say that out loud? Could it be possible that Markham harbored some feeling for her?
She squeezed her eyes closed but the last sight of his kissable lips lingered in her vision. If only he would move off of her. How could she think of Edmund, remain true to him, if this man drove her to such stretches of distraction — or such ranges of passion?
The weight on the cushion shifted, squeaking the seat. A terrible sense of emptiness filled her as she expected him to move away. But his scent drew nearer to saturate her senses, his one hand held firm to her arm. Despite the loud rumbling wheels, his breathing echoed in her ears. Then his warm fingers brushed her cheek and no other sound could penetrate the thundering of her heart.
- HOME -
- BOOKS -
- BLOG -
- ABOUT -
- JEWELRY -







A Touch of Madness: